VIKING FILAMENTS® PLA FLUX
An everyday filament out of the ordinary. PLA FLUX is a very special and unique filament which is 2 colors in one, and fantastic color change effects appear when printed with this filament. Color changes occur by looking at the finished print from several different sides. It is manufactured in large 1kg rolls and thus the quantity and price / quality ratio is completely unique at SoluNOiD.
PLA FLUX is a PLA-based material developed for its silky soft and smooth shine. It increases the perception of color gloss and diffuses light when viewed from different angles, giving a unique glossy effect. Slower printing and low temperature enhance the silky effect. The satin surface creates beautiful reflection in the printed objects.
Our 3D Printer Filament - Viking Filaments - manufactured by one of the world's largest chemical companies where there is no compromise on quality. Our unique collaboration thus ensures a stable delivery of high quality products and uniformity in colors and tolerances. Their high production quality ensures that there are no nuance differences from production batch to production batch. And they ensure a continuous further development of their products and new products with exciting properties.
When you shop at SoluNOiD, you are sure that the quality is top notch. If it is not, the sale of these products will cease immediately, as we are only interested in offering our customers the best possible version of the products.
In addition, we are always happy to receive product reviews of our products. We greatly appreciate your review so that new customers can also see that the products are of a high quality.
Key Features:
Beautiful and silky surface

Great color effects and color changes (depending on model)

Not 2 prints will be exactly alike

Biodegradable
Low warping
Very limited odor
Easy to print at low temperatures
High strength and less fragile than traditional PLA
PLA FLUX can also be printed without a heated building board due to its low tendency to twist. If you have a heated building board, a temperature of ± 50-60˚C is recommended. PLA FLUX can be used on a standard desktop FDM or FFF technology 3D printers.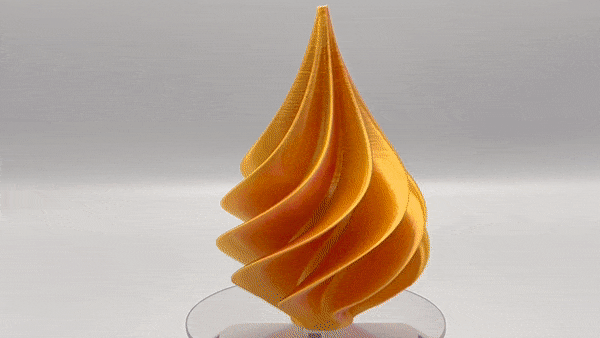 Storage: Cold and dry (15-25˚C) and away from UV light. This significantly increases durability. Please note that parameters you use for printing with PLA SATIN may change the PLA SATIN effect on printed parts. Looking into parameters and fine-tuning the profile of your printer will benefit the satin effect of your printed part.
Why choose Viking Filaments PLA?
PLA is generally an easy material to deal with. It is the most widely used material because:
It has a cheap kilo price
It is easy to print with
It can be used for a wide variety of purposes
Prints at relatively low temperatures
PLA is also biodegradable, and one must therefore avoid being exposed to constant humidity and large temperature fluctuations. It is not as impact resistant, dimensionally stable, UV resistant and resistant to various liquids such as oil and chemicals such as. PETG filament is.
Clean building board - Alfa & Omega
It is essential that the build plate is kept as clean and grease-free as possible. Many people find that their filament does not adhere well to the building board and uses glue and even hairspray.
Often, it's just a matter of cleaning your building board and keeping it clean. Start by cleaning your building board with dish soap, hot water and a scouring pad. Avoid touching the building board while drying and reattaching the building board to the printer. Then the building board is like new again. And after each print, wipe the building board with a cloth that has been poured a little isopropyl alcohol / isopropanol on. From time to time you can also pour a little isopropanol on the scouring pad and then scrub a little on the building board, and dry with a cloth. Then it's ready to go again!
If the above does not help, then there is a high probability that your nozzle's distance to the building board is not adjusted correctly. It may be too close or too far away. Use the paper method to roughly adjust, and then find a test pattern on e.g. thingiverse.com to print a single layer of square squares in all 4 corners and in the center. If they look the same with a smooth surface, then the printer is adjusted correctly.
Here is the illustration of a wrong and a correct adjustment:

Source: prusa3d.com